Social-emotional learning (SEL) is a vital component of fostering positive classroom environments because it is designed to educate the whole child. When teachers design classroom environments that meet students' social, emotional, and academic needs, they can better facilitate connection, minimize threats and distractions, and create a safe learning environment for all students.
As a classroom teacher, I was always excited to begin the school year with fresh routines, new students, and optimism for a fantastic year ahead. In my experience, what I did at the beginning of the school year set the tone for either a great or challenging school year. Here are three classroom-friendly SEL activities to begin the new school year (and remember, it is never too late to establish routines, even if you started a few weeks ago!)!
Idea # 1: Conversation Bingo
Social connection is an important aspect of learning; however, many students struggle to connect in a learning environment. Conversation Bingo (make a copy to make it your own, doc) is an excellent way to help students connect and build relationships with classmates. This activity can be used in upper elementary, middle, high school, and even professional development! The goal of Conversation Bingo is for students to use the discussion prompts on their cards to have five conversations with at least five different classmates to score a "Bingo."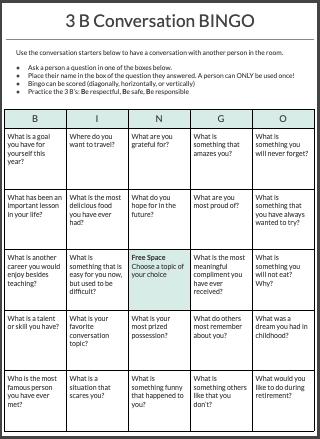 The beauty of this activity is that you can customize it to the needs of your classroom. Some teachers like to fit this activity into one class period, where students have all five conversations in one day. Other teachers like to invest a few minutes each day for a week, typically at the beginning or end of class, for students to have one conversation daily.
Why it Works:
Fostering both academic and social growth forms the foundation for cultivating a deeply engaging classroom atmosphere. Utilizing Conversation Bingo offers an excellent means to nurture essential interpersonal skills within diverse student populations, promoting a sense of connection and active participation.
Idea # 2: Frayer a Friend
The Frayer model is a versatile vocabulary development tool consisting of four quadrants, enabling students to showcase their comprehension of a vocabulary term through various means. Furthermore, the Frayer model can be instrumental in uncovering the diverse perspectives and insights each student contributes to the classroom.
The "Frayer a Friend" activity takes an SEL "spin" on a popular vocabulary development tool. The objective is for students to collaborate in pairs, conducting interviews and documenting their partner's responses within each quadrant of the Frayer model. Although the following example was created in Jamboard, it can be easily adapted to your student's preferences as a paper and pencil activity, word processing document, and slide show.
Why it Works:
The Frayer a Friend Activity is a valuable tool for students to develop crucial social awareness skills, allowing them to practice empathy, heightened awareness, and a deeper understanding of others' viewpoints.
Have you tried something similar? Tell us more!
Idea # 3: Learning Profiles
Supporting students academically and socially are the ingredients of highly engaging classroom environments. When students are empowered to recognize their strengths, acknowledge their learning challenges, identify their preferences, and understand their unique learning needs, they become better equipped to navigate the various hurdles within an educational setting.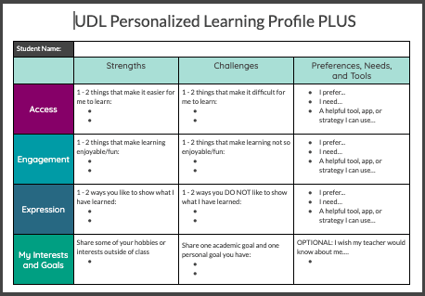 Learning profiles are an excellent tool for helping students understand the complexities of how they learn best. The following Learning Profile (make a copy) is designed with the principles of UDL in mind to help students become expert learners who are purposeful and motivated, resourceful and knowledgeable, and strategic and goal-oriented.
Why it Works
Expert learners possess self-awareness and can discern their learning strengths, limitations, needs, and preferences. This self-awareness imparts students with a profound sense of confidence and purpose.
SEL plays a crucial role in creating positive classroom environments that cater to the holistic development of students. When educators prioritize their students' social and emotional needs alongside their academic growth, they lay the foundation for a successful and enriching school year!