IVF and Evaluating Claims
Original Lesson Plan (Natalie Adcock, Bowen State High School in Australia)

Original
UDL Makeover
Before and After

Goals & Barriers

Objective:

Students will understand IVF and will be able to apply this knowledge to evaluate the scientific accuracy and reliability of the information.

Student Outcomes:

I can describe the IVF process
I can evaluate scientific claims.
I can justify evaluations using scientific evidence/information.

The first step to UDL implementation, separate the goals:

Understand IVF
Evaluate a claim for accuracy and reliability ("justify evaluations using scientific information/evidence")

In this example, the "I can" statements are written in clear language that is understandable to students (aligns with UDL Guideline 2 and 3).

Assessments

Students are to "Evaluate this claim for accuracy and reliability. State whether or not you agree with this statement. Justify your response using the information brochure above as scientific evidence, as well as your knowledge of heredity."

There is a rubric (slide 9) that focuses on evaluating and communicating:

"Critical evaluation of the accuracy and reliability of claims made in secondary sources with reference to currently held scientific views and the evidence cited.
Concise and coherent: communication of science ideas for specific purposes through the construction of justified evidence-based arguments, discerning selection of appropriate representations, and text types

The rubric does not connect to goal #1, understanding IVF.

We recommend making content-level assessments (could be formative checks) about students building content understanding of IVF.

Goal #2 states students will "describe, evaluate and justify."

We recommend making goal #2 even more closely aligned to the rubric to focus on "evaluating and justifying."
Slide 6 best aligns to the goal and could be used to really focus the goal: "Evaluate this claim for accuracy and reliability. State whether or not you agree with this statement. Justify your response using the information brochure above as scientific evidence, as well as your knowledge of heredity."
The rubric contains vague language that is not objective or measurable. This will make it challenging for students to evaluate their progress or success. For example, what does it mean to be "concise" or "coherent"? Be sure each term is clearly defined or described so students know what success means and how it will be measured. Then, the model examples that are given (i.e., slide 8) can align with the rubric.

Methods & Materials

To support goal #1, to understand IVF, there is:

A visual (slide 3) - recommend adding a description of the image to support understanding IVF.
There is a description of IVF on slide 3 that can help provide background information, in conjunction with the video on slide 4 and diagram example on slide 5. We recommend giving students a graphic organizer to fill in to learn about IVF and they can use slide 3, video on slide 4, and/or unicorn cartoon example on slide 5 to help them build background (UDL guideline 3).
Slide 4 has a video. Recommend:

Make sure the video is captioned (UDL Guideline 1),
Include focus questions or a handout/graphic organizer to help guide students to the pertinent information in the video (UDL Guideline 3)

The pedigree review (slide 2) is not relevant to understanding IVF, suggest removing it from this lesson.
Offer a way for students to check their understanding of IVF. (UDL guideline 3)
Offer the option to collaborate with peers to learn about IVF. (UDL guideline 7)
Offer flexible ways for students to share that they understand IVF, such as to write, draw, record (UDL guideline 4)

To support goal #2, to evaluate a claim for accuracy and reliability:

Slide 5 is not a scientific claim, it is a visual representation of the process of IVF, that could be an alternative representation of information to support goal #1. Suggest rename and make a separate slide that is the scientific claim (unless the claim is that they can make a magical unicorn?--either way, need to make the scientific claim very clear so students know exactly what to evaluate)-- slide 6 is getting at this
There is a graphic organizer to support evaluating a claim (slide 7) (aligns with UDL guideline 6)
Consider taking the model example on slide 8 and using the graphic organizer on slide 7, to show how to complete the graphic organizer. Then, you can share how the model answer is crafted from the graphic organizer. (UDL guideline 3)
To engage students in evaluating a scientific claim (slide 10), let them choose a claim to evaluate (or have a few options to choose from). You can choose claims that are from the media or high-interest claims - and have them work through how to evaluate and justify them (as shown in slide 11). Then, students can move into scientific claims. (UDL Guideline 7)
Great to have sentence starters to help students evaluate and justify. (UDL guideline 5)
The Four Square drafts on slide 12 is a helpful template for students to use to evaluate and justify. How does it align or differ with slide 7? With slide 11? Suggest having one template (i.e., the Four Square draft) - and build a model example, use the sentence starters, and make sure it aligns with the success criteria outlined in the rubric. (UDL guideline 3 and 6)
Explore More Universally Designed Lesson Plan Makeovers:
- - - - -
Deepen Your Learning.
Learn strategies and approaches to design for students to think and act like scientists! Explore how to support scientific discourse, to use models to support the development of robust understandings of complex science concepts, to infuse assessments that are aligned to standards and to develop expert learning, and to integrate standards, such as the Next Generation Science Standards in lesson design.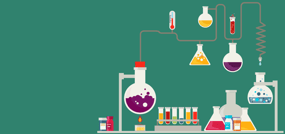 Inclusive Practices in the Science Classroom
Self-Directed Course | Grad Credits Available