Each day, school leaders are presented with decision-making opportunities that have a lasting impact on the health and success of staff and students. Many of the leadership and administrative positions we occupy offer a type of specialization (For example, Erin is an Associate Principal of Student Support Service, and Chris currently serves as the Department Chair for English). With these specialties, comes expertise and knowledge in the field, but school leaders are tasked with serving on decision-making bodies that often extend past their focus area.
Our inquiry into how to best facilitate adult gathering spaces has already led us to dive deeply into purpose setting in our Better Meetings Guide. In it, we speak to the impact of the facilitator mindset, planning, and reflection on cultivating feelings of creativity and time well spent by participants. Important to maintaining a positive culture is the feeling of accomplishment and responsibility that meeting-goers feel as they leave. In leadership, we have the power and responsibility to consider the individuals, including ourselves, and the role that we all play in decision-making. In a 2020 article published in the Journal of Professional Capital and Community, Deborah Netolicky writes that school leaders must "balance strategic and operational leadership". She goes on to say that leaders are challenged with considering the range of impact of every decision while also keeping all of their individual people in mind.
While this consideration is no easy task, taking the time to strategically reflect upon the knowledge levels and dispositions of those on your team is the sort of intentionality that yields a high payout with productivity and participant satisfaction. Recently on Twitter, a graphic credited to Ivona Hirschi outlined 8 Tips for Success Communication that includes two important points connected with the tool we are sharing with you in this article:
Admit when you don't know, others will help

Apologize and admit mistakes
As educators approach, tackle, and implement initiatives that span a vast array of topics, they will enter into spaces where they are the expert and also ones where they are a novice. That is where the two points from Hirschi's graphic become the most powerful. The Leadership Quadrant (PDF, JPG below) is a visual tool that can be utilized to categorize and group individuals, including the leader themselves, to maximize productivity and feelings of shared responsibility and agency.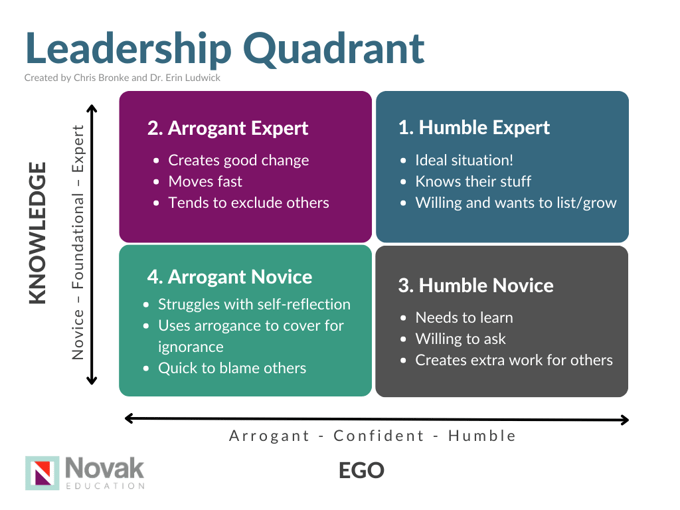 We constructed this tool with two different reflection purposes in mind with the hopes of better empowering leaders to understand their own positionality and that of the team so that all meetings can be more universally designed to maximize productivity and efficiency.
Purpose 1: Personal self-reflection.
This reason invites leaders to consider, given the topic/nature of upcoming meetings, what their knowledge and disposition are. This is, almost always, a fluid reflection that can and should change from topic to topic.
Purpose 2: Plot your team prior to going into challenging meetings
This reason empowers leaders to more deeply understand what each team member is bringing to the table and better allows them to universally design the meeting to address the unique needs of each team member.
How to Use the Leadership Quadrant Tool
First of all, it is important to note that this tool is built around the concept of a continuum and acknowledges that there are varying levels along each axis. But at the core, we have broken down leaders and those they lead into two key components: knowledge and ego. At the core, when leaders understand their own place at the table as well as embrace the impacts of those joining their meetings, they are empowered to apply the principles of Universal Design for Learning to better support and utilize all members of the team.
With this established, the tool simply becomes a way to pick a specific topic within education and reflect on their knowledge and sense of self-esteem in a paired fashion. One can be in four different quadrants (and remember, this can change based on the topic).
Humble Expert
Arrogant Expert
Humble Novice
Arrogant Novice
Here are a few examples:
| | | |
| --- | --- | --- |
| | Assessment Theory | Special Services/IEPs |
| Chris | Highly knowledgeable but can trend towards arrogant because of that | Very ignorant so he tends to generally be very humble and defer to the experts |
| Erin | Moderately knowledgeable so tends to listen to those in the collaborative group more than speak in order to approach with humility | Highly knowledgeable in the ways in which systems interact and the teams collaborating around individual problem solving, so can approach challenges with an arrogant energy |
Where one, or other members are situated on these axes provides insight and has implications for self and planning. We explore these below.
Personal Reflection:
Implications for BEING a Quadrant X Leader
The Humble Expert: Has positionality and confidence to respectfully invite other voices into the conversation.
The Arrogant Expert: Has the knowledge to move conversations forward, but needs to remain mindful of including other voices and perspectives.
The Humble Novice: Has to remain mindful of post-meeting tasks and actively seek to fill gaps in
knowledge.
The Arrogant Novie: Has to actively seek out and respond to feedback from others.
Mapping your team:
Implications for LEADING a Quadrant X Team Member
The Humble Expert: Must design a structure that empowers this participant to share expertise without worry that they are monopolizing the conversation. Regardless of structure, the leader must ensure that this participant feels valued and empowered.
The Arrogant Expert: Must design a structure that requires deliberate reflection and space for receiving feedback from colleagues. Regardless of structure, the leader must follow up so the participant clearly understands the bigger picture and timeline.
The Humble Novice: Must design a structure that includes exposure to resources that build a knowledge base, including work before the meeting space. Regardless of structure, the leaders must ensure that this participant is engaging in activities that expand their practical knowledge.
The Arrogant Novice: Must design a structure that allows this participant to participate appropriately (share ideas and perspective), and follows up intentionally with outlined expectations. Regardless of structure, the leader must hold the participant accountable to process the impact and influence they have in meetings and redirections may be needed.
Moving Forward
As we strive to be more strategic and successful as leaders, this tool is a framework for proactive planning by leaders and productive gatherings for all participants. Taking the time to consider the individual strengths and growth areas for the team you lead, in the context of the topic at hand, is a concrete strategy towards a strong choice to move the group forward. The team mapping included above informs facilitation that is universally designed for before, during, and after the designated meeting time. The focus is on cultivating a sense of balance and productivity. Our hope in the design is that leaders are able to utilize the quadrant tool in daily practice and reflections to maximize productivity and satisfaction with those on their team.
---
Resources:
Netolicky, D.M. (2020), "School leadership during a pandemic: navigating tensions", Journal of Professional Capital and Community, Vol. 5 No. 3/4, pp. 391-395. https://doi.org/10.1108/JPCC-05-2020-0017