A Roadmap on How to Design Options and Choice for Remote Learning
Change is scary – especially when it happens in the cloud. Believe me! I met my husband, Lon, on Match.com almost 17 years ago. I was supposed to meet someone in person – not online! And we are supposed to be teaching in-person – not online. But oh, how change (and COVID-19) breeds innovation.
Just think of all the changes in the ways we eat, shop, and travel: Doordash, Amazon Prime, and Uber hover below our fingers. Just like our lives have been impacted by technology – so too has teaching and learning. We not only had to change what we do and how we do things but we had to do it very quickly.
So, we want to help you get to the next level with your remote learning. We have created the UDL Remote Learning Flowchart that will help you troubleshoot and streamline the development and delivery of your UDL lessons remotely. The flowchart is built upon our UDL Flowchart and suggests considerations for you and your students will need to be successful in a remote environment. If you find that you are able to answer "yes" to each question in the flowchart, good for you! You are well on your way to eliminating barriers to learning. If however, you find that you cannot say "yes" to everything, we have provided some resources for you to check out to make the changes that you need.
Obviously, we aren't going to nail this every time, and that is okay. You don't have to do this by yourself – get students and other teachers involved in your process so that you can get as much input as you can. As always, all feedback welcome!
The UDL Flowchart includes some important points to remember when you are going online or remotely with your lessons.
Start here!
Download the Remote Learning Flowchart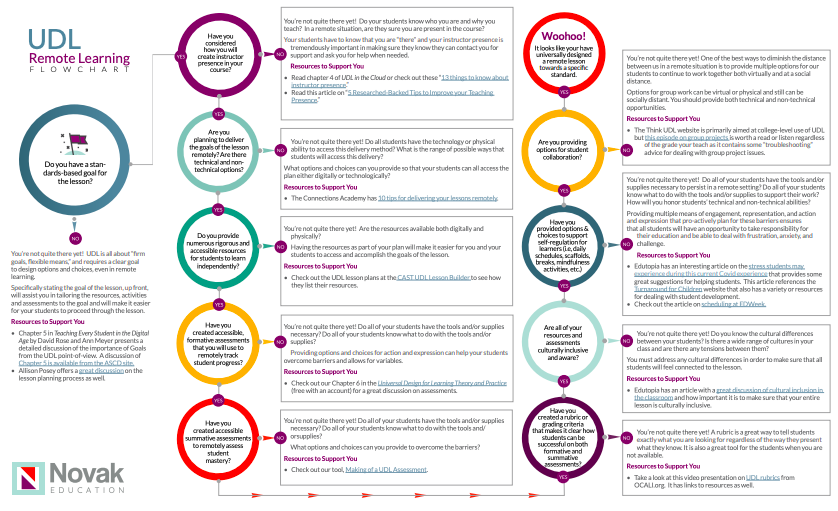 ---
Take your learning to the next level.