Computer programs and websites have a wonderful tool called the "Rich Text Editor". I'm sure that you have seen and used one if you have ever typed a document in Microsoft Word or a Google doc. The rich text editor lets you put text, images, animations, videos, and other resources into the same document so that you can easily distribute all of these resources to your audience. The rich text editor lets you use the best options to deliver your message at any given time. It is the perfect tool to use to talk about the representation guideline of UDL. Let's start by defining what is included in the representation principle:
Provide options for perception
Provide options for language & symbols
Provide options for comprehension
These guidelines are further divided into a series of checkpoints, or reminders that help you plan for student variability and proactively plan for barriers to learning.
Representation is the process of collecting and presenting information to students in a way that students can understand, engage with and learn from. It is the second principle of UDL. Representation uses the recognition network of the brain. If we are trying to help our students become expert learners then:
"Expertise requires much more than just engagement. It requires constructing knowledge by perceiving information in the environment, recognizing predictive patterns in that information, understanding and integrating new information; interpreting and manipulating a wide variety of symbolic representations of information; and developing fluency in the skills for assimilating and remembering that information."

- Meyer, Rose, and Gordon, Universal Design for Learning: Theory and Practice
Evolving with the Times
It seems that for the last 200 years of education, the primary means of representation have been text and talking (lecture). Text in a book, on the computer, or on a board in front of the class. It is everywhere. Text is a problem for some people. Obviously, if you have a vision impairment, printed text creates a significant barrier. But it is also a problem for those who struggle with reading comprehension and reading skills, dyslexia, ADHD or are English language learners. Talking or lecture is also a problem as it is usually a passive activity that fails to engage the learner in the process. I know personally that there were times that I had trouble staying engaged even in classes where there was a talented lecturer or a favorite teacher. This isn't to say there is no place for explicit instruction in a UDL classroom - but it has to be done in short spurts with regular opportunities for active engagement.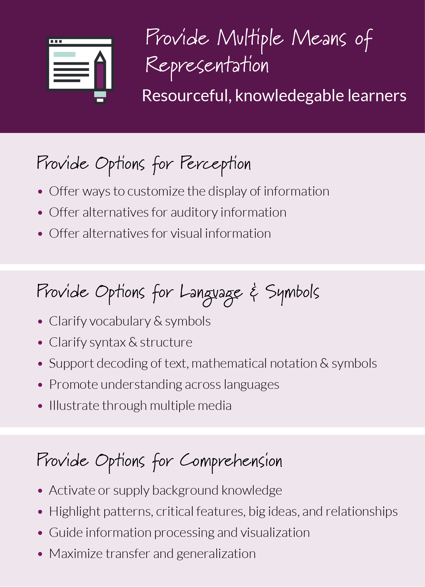 UDL is a standards-driven framework. In order for a student to become expert learners, the learning has to be defined and the instruction has to be delivered to meet a standard. Let's take a quick look at one of the 6th grade social science content standards for the State of Massachusetts that reads "Identify the locations, sources of wealth and importance of West African cities and empires, including the city of Timbuktu …."- MASS DOE . You will note that the standard does not define "how" the student will achieve this standard or "what" they will study to achieve this standard. Most importantly, reading is not part of the standard. Now, if a student cannot read grade level text yet and text is the only option given to the student, the student will not be able to achieve the standard. However, if a student is given the option to view videos or is able to listen to the computer "read" the text, or provided other options, they are included.
Some students may also need options available to them for acquiring the appropriate background knowledge that is necessary to fully understand the topic or standard. Going back to the social science standard we used above, if you have no background knowledge of "West African cities and empires" you will need support. This brings up the issue of context. Context is huge as students vary in their context as well. As Rose and Meyers state "whatever variability seems to be within the learner is functionally expressed within specific contexts which determine whether a trait, a mood, or an effect of history becomes disabling, neutral, or advantageous with regard to learning." They go on to say that "No single medium works for every learner, nor does it for every subject....To promote understanding of information, concepts, relationships, and ideas, it is critical to provide multiple ways for learners to approach them."
As teachers, developing multiple means of representation does take additional effort but this does get easier as you build your ability and it is worth the effort! Providing options will enable students to:
Learn the material without barriers interfering in the process,
Help them build expertise that will also support them in other subjects,
Help them build self-confidence that will support them in their willingness to learn new information
The options that you provide need to account for comprehension, language, mathematical expression, and symbols as well as perception.
Continue Your Learning: