The "Twofer" That Will Equip and Empower you to Support and Teach the Whole Child.
Don't you love a twofer? I totally do! For all you shoppers out there, you know what I mean. It's when you score a deal that gives you two things for the price of one. Two bags of potatoes for the price of one! Two pairs of Nike shoes for the price of one! Ok, not a shopper. Twins! A two-for-one pregnancy. Not about babies? What about two for one travel deals? We all like those twofers. They just make life easier and a bit more fun. I think we all need a little bit of that right now, don't you?
What if I were to tell you that as you are universally designing your learning experiences and environments by using a Universal Design for Learning (UDL) lens, you are supporting your learners with Social and Emotional Learning (SEL) practices that support the whole child? That's an amazing twofer, right?!
With what is happening right now in education and all of society's uncertainties, the need to support our students not just with academics, but more importantly with social and emotional learning is imperative because all learning IS social and emotional. But, can educators take one more thing "to do"? Well, a twofer would make it a lot easier. Plus, it's a must. Intrigued? Not quite sure how to do this? Read on.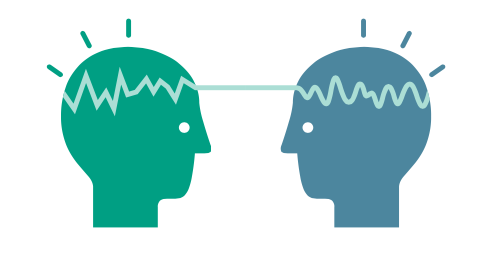 Ok, we have all seen the pendulum swing in education, new initiatives come and go. UDL, SEL, or any other initiative can feel like just another overwhelming thing on very full plates, honestly, full platters for educators that are overflowing. But when we begin to unpack and understand the overlaps between initiatives, we realize that they aren't really different things so much as complimentary things that all lead to embracing variability both academically, socially, and emotionally. UDL is all about removing barriers, offering choices and options that will improve teaching & instruction that will ultimately lead to better outcomes for our students. Used and woven seamlessly together, it doesn't have to be "another thing" for teachers "to do", but this twofer will equip and empower you to support and teach the whole child. Isn't that our goal?
How to weave together UDL and SEL throughout your day
Ready to see how these two initiatives, UDL and SEL, overlap and can be woven in throughout your teaching day to support all of your learners? Let's take a look at CASEL's Core Competencies and see how many of the UDL guidelines and checkpoints support social and emotional learning. Check out the two circles at the center of this graphic.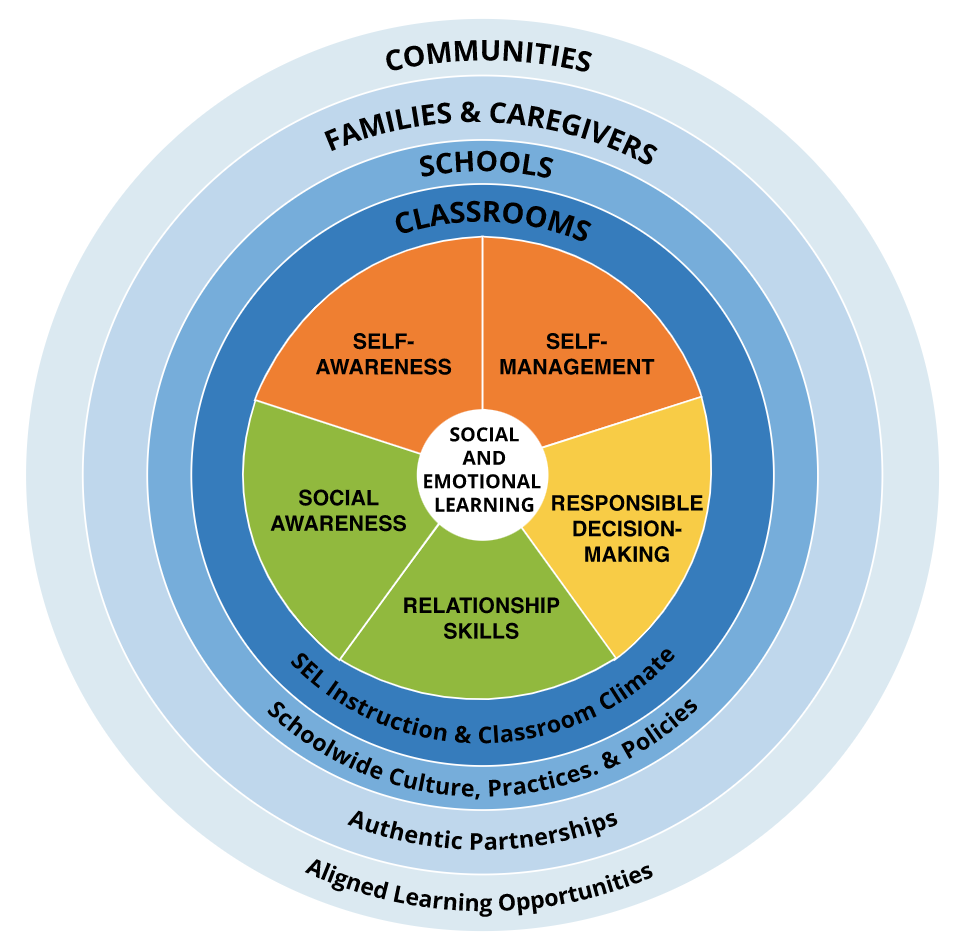 1. Self-awareness
CASEL describes self-awareness as a person's ability to develop an awareness of their thoughts, feelings, and emotions, examining personal biases, cultivating self-efficacy and a growth mindset, and developing interests and a sense of purpose. But where's a good place to start with your students? Easy. Surveys.
As I work with districts and their educators, I suggest conducting them all of the time. Surveys of all sorts will help you make learning relevant, culturally responsive, interesting, and goal-oriented. You can start with a simple survey format (old school paper/pencil or a techy Google questionnaire), an informal chat during class or after school, or a rousing class discussion in person or in breakout rooms. What are they passionate about? Video games, their culture, science, animals, TikTok, a musical artist or group, discovering a cure for cancer? What do they prefer? You may get the infamous shrug of the shoulders or "I dunno", but it's your job to find out. Why? You are helping them to become self-aware. UDL is all about removing barriers to student learning by providing options and choices by Optimizing Individual Choice (checkpoint 7.1) and making learning socially, culturally relevant and responsive, personalized to learners' lives so they "see" themselves in our learning experiences and environment by Optimizing Relevance, Value, and Authenticity(checkpoint 7.2). Surveying your students, then enveloping their interests, cultures, and passions in your learning experiences and environment by offering choices and options that are of interest to them will engage your students and create expert learners who are purposeful and motivated.
Will students always make the right learning or behavioral choices? Nope. Do you? I surely don't. This is where your feedback is key. As we provide meaningful Mastery-Oriented Feedback(checkpoint 8.4) it can help students become more self-aware, develop needed academic mindsets to excel and reflect on what worked, what didn't work, and what better choices they will make next time. Failure is an opportunity to learn and grow.
2. Self-management
CASEL defines self-management as, "The abilities to manage one's emotions, thoughts, and behaviors effectively in different situations and to achieve goals and aspirations." I know, I know, easier said than done, especially in the times we are living. Definitely takes time and support, but it's not only doable, it's a must. Yet, in order to develop and practice self-management strategies, people need to feel safe. When we create an environment that is nurturing, respectful, supportive, and non-judgmental, students will be open and vulnerable to not only identify and share their feelings but try a variety of options and choices that help them self-regulate their emotions and set goals for both emotional and academic growth.
Check out how UDL supports a student's ability to manage their emotions.
3. Social Awareness
According to CASEL, social awareness is: "The abilities to understand the perspectives of and empathize with others, including those from diverse backgrounds, cultures, & contexts." This includes the capacities to feel compassion for others, understand broader historical and social norms for behavior in different settings, and recognize family, school, and community resources and supports. Isn't that what UDL is all about: recognizing that we are all different, have different backgrounds, perspectives, strengths, and weaknesses. When we are socially aware of each other's emotions and needs, we can empathize, support and challenge one another.
The UDL checkpoints Increase mastery-oriented feedback (checkpoint 8.4) and Foster collaboration and community (checkpoint 8.3) found in the Engagement principle helps educators cultivate social awareness in their students by offering mastery-oriented feedback and opportunities to collaborate with other peers. Both of these checkpoints provide chances to receive feedback both academically and behaviorally, which helps students reflect, understand another's perspective, develop empathy, and learn how to work productively with others.
4. Relationship Skills
CASEL defines relationship skills as the ability to establish and maintain healthy and supportive relationships and to effectively navigate settings with diverse individuals and groups. This includes the capacities to communicate clearly, listen actively, cooperate, work collaboratively to problem solve and negotiate conflict constructively, navigate settings with differing social and cultural demands and opportunities, provide leadership, and seek or offer help when needed.
Relationships matter. People with healthy relationships have a longer life span, better health, and outlook on life. In fact, the Harvard Medical School published an article, The Health Benefits of Strong Relationships which stated: "social connections like these not only give us pleasure, they also influence our long-term health in ways every bit as powerful as adequate sleep, a good diet, and not smoking."
Convinced that relationships matter? Let's take a look at where SEL and UDL intersect when it comes to relationship skills. As we provide students the opportunities to Foster Collaboration and Community (checkpoint 8.3) students work with peers to solve problems, assist each other, and work towards shared goals. This requires active listening, cooperating, and negotiating conflict constructively in a positive way. Checkpoint 5.3 Build Fluencies with Graduated Levels of Support for Practice and Performance
also promotes relationship skill-building by allowing students to use their relationships to get support from one another, mentors, and their teachers to reflect, learn, grow, and move forward.
5. Responsible Decisions
According to CASEL, "The abilities to make caring and constructive choices about personal behavior and social interactions across diverse situations. This includes the capacities to consider ethical standards and safety concerns and to evaluate the benefits and consequences of various actions for personal, social, and collective well-being."
When we offer options and choices to our students, as we do with UDL, and put them in charge of their own learning, it requires them to own and make responsible decisions for themselves. They learn about themselves, the process of decision-making (it is a process!), and the outcomes, both positive and negative on others and themselves.
So how does responsible decision-making connect to the UDL guidelines? Responsible decision-making doesn't just happen, it's a thought process that needs to be taught. If we want our students to make responsible decisions, the following checkpoints found in the Action and Expression principle will help them do just that. All three checkpoints, Facilitate managing information and resources (checkpoint6.3), Support planning and strategy development (checkpoint6.2), and Guide appropriate goal-setting (checkpoint6.1) help students think strategically about their decisions, make a plan and then create goals to work toward achieving them. Doing so will help them taste success!
Ready to make this happen? Put this all together and you can have an amazing twofer that will not only support your students academically but socially, and emotionally. I always share with others that "we need to touch the heart before we ever teach the mind." Remember our goal? It's all about supporting the whole child.
Explore Further
Download this chart and see how each UDL checkpoint can help us achieve the SEL competencies.
Learn how to Educate the Whole Child. Introducing the self-paced course created to give the tools to implement UDL and SEL.