With Summer comes longer days, warm nights, and a bit more "me time" to dive into those books you have been wanting to read during the school year.
We asked our team at Novak Education what tops their reading list this summer. This curated list tackles all sorts of subjects, so whether you are looking to learn something new, expand your horizon, or for a guilt-free beach read there is something for you.
Build your summer reading list, pull up a lounge chair, and relax!
Books on Equity and Inclusion
Coaching for Equity: Conversations that Change Practice
By Elena Aguiliar
If we hope to interrupt educational inequities and create schools in which every child thrives, we must open our hearts to purposeful conversation and hone our skills to make those conversations effective. With characteristic honesty and wisdom, Elena Aguilar inspires us to commit to transforming our classrooms, lays bare the hidden obstacles to equity, and helps us see how to overcome these obstacles, one conversation at a time.
I absolutely loved her work in the Art of Coaching and Onward and I always want to lean into discomfort and do better when discussing equity, inclusion, and whom our systems serve and exclude. - Katie Novak
It's fabulous and I'm planning to bring what I learn into my PD and coaching sessions. - Lisa Bosio
- - -
Abolitionist Leadership in Schools: Undoing Systemic Injustice Through Communally Conscious Education
By Robert S. Harvey
This expansive book guides school leaders to provide pre-emptive, premeditated, and progressive leadership while countering the impacts of racism that endure in our schools. Working from an abolitionist lineage, author Robert S. Harvey's radically humane vision explores lessons from our collective national past, provides strategic planning with creativities and contingencies, and fosters liberatory decision-making through accountability, communication, and more.
The author of this book, Robert Harvey, is a superintendent for the East Harlem Scholars Academy. I had a chance to speak with him and I loved his journey to education and his humor and wit. His deep level of educational expertise mixed with his innovation and compassion came through in just one conversation. When I found out he had written a book about abolitionist leadership in schools I just couldn't wait to get my hands on it. The description won me over when it said this book, "Explores lessons from our collective national past, provides strategic planning with creativities and contingencies and fosters liberatory decision-making through accountability, communication and more. I'm looking forward to learning more about his approach to fighting systemic racism and disrupting the status quo.
-
Tesha Fritzgerald
- - -
By Andratesha Fritzgerald
Drawing vivid portraits of her classroom instruction in urban over the past two decades, Fritzgerald shows teachers how to open new roads of communication, engagement, and skill-building for their students. The result? Helping students become expert, lifelong learners who feel honored and loved.
I truly enjoy building my capacity so I can support those who are looking to contribute to dismantling our current system and level the playing field. I have a long list of reads for the summer including Tesha's, The Third Option, Post-Traumatic Slave Syndrome, The New Jim Crow plus many more! - Talisa Sullivan
- - -
Disability Visibility: First-Person Stories from the Twenty-First Century
By Alice Wong
One in five people in the United States lives with a disability. Some disabilities are visible, others less apparent—but all are underrepresented in media and popular culture. This anthology gives a glimpse into the rich complexity of the disabled experience, highlighting the passions, talents, and everyday lives of this community. It invites readers to question their own understandings. It celebrates and documents disability culture in the now. It looks to the future and the past with hope and love.
Recommend by Zach Smith
- - -
Instruction Methods
Hacking Assessment: 10 Ways to Go Gradeless in a Traditional Grades School
By Starr Sackstein
Sackstein unravels one of education's oldest mysteries: how to assess learning without grades -- even in a school that uses numbers, letters, GPAs, and report cards. While many educators can only muse about the possibility of a world without grades, teachers like Sackstein are reimagining education. In this unique, eagerly-anticipated book, Sackstein shows you exactly how to create a remarkable no-grades classroom like hers, a vibrant place where students grow, share, thrive, and become independent learners who never ask, "What's this worth?"
- Recommend by Mike Woodlock
- - -
Equipped for Reading Success
By David Kilpatrick
This book is a game-changer for both parents and professionals. It is a must-have book for any parent helping their child overcome reading difficulties. A great companion book to Essentials of Assessing, Preventing, and Overcoming Reading Difficulties, this book is a practical guide to implementing a step-by-step program in phonemic awareness as part of a comprehensive literacy program. Full of amazing insight and resources that teachers can use immediately in the classroom.
My list for educational reads is short as I read a lot of middle school and high school novels over the summer but this tops the list. - Tara Trainor
- - -
Challenging Orthodoxy in Special Education: Dissenting Voices

Looks at ways special education as a system and label is missing the mark for students with disabilities. Looks at it from a Disabilities Students for Education approach. - Zach Smith
- - -
Tell Me So I Can Hear You: A Developmental Approach to Feedback for Educators

By Eleanor Drago-Severson and Jessica Blum-DeStefano
The authors show how leaders can provide feedback in ways that "meet people where they are" while expanding the developmental capacities educators bring to their work. Drago-Severson and Blum-DeStefano provide real-life examples with practical strategies for creating a safe space for feedback, finding the right words, and bridging feedback and action. Tell Me So I Can Hear You offers invaluable guidance to help educators support a culture of learning in classrooms, schools, and districts.
Recommend by Mirko Chardin
- - -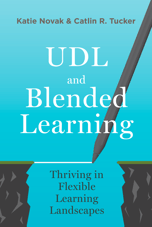 UDL and Blended Learning
By Catlin Tucker and Katie Novak
This approachable, in-depth guide unites the adaptability of Universal Design for Learning with the flexibility of blended learning, equipping educators with the tools they need to create relevant, authentic, and meaningful learning pathways to meet students where they're at, no matter the time, place, and point of progress. With step-by-step guidance and clear strategies, authors Katie Novak and Catlin Tucker empower teachers to implement these frameworks in the classroom, with a focus on cultivating community, building equity, and increasing accessibility for all learners.
Call me biased but I am so excited to see Catlin and Katie come together on such an important, timely subject. - Ashley Thibodeau
- - -
Motivation and Self-Improvement Books
The 4 Disciplines of Execution: Achieving Your Wildly Important Goals
By Chris McChesney, Sean Covey, Jim Huling, Scott Thele, and Beverly Walker
The 4 Disciplines of Execution (4DX) is a simple, repeatable, and proven formula for executing your most important strategic priorities in the midst of the whirlwind. By following the 4 Disciplines—Focus on the Wildly Important; Act on Lead Measures; Keep a Compelling Scoreboard; Create a Cadence of Accountability—leaders can produce breakthrough results, even when executing the strategy requires a significant change in behavior from their teams.
It explains why your most important goals often are not achieved and what you can do "next time" to make sure that they will. The authors have filled the book with examples from over the thousands of projects that they have been involved with over the years. It is a book that is easy to read and it makes a lot of sense. - Tom Thibodeau
- - -
Think Again: The Power of Knowing What You Don't Know
Think Again reveals that we don't have to believe everything we think or internalize everything we feel. It's an invitation to let go of views that are no longer serving us well and prize mental flexibility over foolish consistency. If knowledge is power, knowing what we don't know is wisdom.
"After listening to Grant talk about this book on the Armchair Expert podcast, it became a must-read for me. A fan of his previous books, Grant, an organizational psychologist, explores how we can learn more when we embrace what we don't know. As an author, he is as good as it gets at combining research and story to develop his argument." - Chris Bronke
- - -
Leaders Eat Last
By Simon Sinek
I'm currently reading Leaders Eat Last, Sinek discusses how good leaders value and appreciate all their employees and counterparts that work with them to make the organization move forward. I love the message behind this book especially in a time when our teachers and support staff feel so overworked while ensuring that student safety and wellness was at the forefront. Additionally, many educators have been required to follow so many protocols and implement changes without really a time to process the change as it was happening at warp speed. This book reminds us all, as leaders, to value and appreciate individuals at all levels of our organization and to ensure that they feel their worth within the organization. - Kristin Fox
- - -
Measure What Matters
By John Doerr
In Measure What Matters, Doerr shares a broad range of first-person, behind-the-scenes case studies, with narrators including Bono and Bill Gates, to demonstrate the focus, agility, and explosive growth that OKRs have spurred at so many great organizations. This book will help a new generation of leaders capture the same magic.
Recommended by Lon Novak
- - -
Everything is Possible
By Jen Bricker
In March 2020, I became a quadruple amputee after being diagnosed with Influenza A and going into septic shock. This book was a great read for me as I have a doctor the motto don't tell me I can't but show me all the ways that I will, Brinker has also done the same in her life after being born without legs. This book relates to my life so much over the past 15 months but can also relate to so many of us as we work to understand life's everyday troubles and challenges. I love her positive attitude and the way she tells her story of triumph. - Kristin Fox
- - -
Nonfiction
A Brief History of Everyone Who Ever Lived: The Human Story Retold Through Our Genes
By Adam Rutherford
Acclaimed science writer Adam Rutherford explains exactly how genomics is completely rewriting the human story—from 100,000 years ago to the present.

A Brief History of Everyone Who Ever Lived will upend your thinking on Neanderthals, evolution, royalty, race, and even redheads. (For example, we now know that at least four human species once roamed the earth.) Plus, here is the remarkable, controversial story of how our genes made their way to the Americas—one that's still being written, as ever more of us have our DNA sequenced.
Recommended by Juan Gallardo
- - -
The Beautiful Struggle: A Memoir
By Ta-Nehisi Coates
With a remarkable ability to reimagine both the lost world of his father's generation and the terrors and wonders of his own youth, Coates offers readers a small and beautiful epic about boys trying to become men in black America and beyond.
Recommend by Mirko Chardin
- - -
Fiction
There, There: A novel
By Tommy Orange
There There
is a wondrous and shattering portrait of an America few of us have ever seen
.
It's "masterful . . . white-hot . . . devastating" (
The Washington Post
) at the same time as it is fierce, funny, suspenseful, thoroughly modern, and impossible to put down. Here is a voice we have never heard—a voice full of poetry and rage, exploding onto the page with urgency and force. Tommy Orange has written a stunning novel that grapples with a complex and painful history, with an inheritance of beauty and profound spirituality, and with a plague of addiction, abuse, and suicide. This is the book that everyone is talking about right now, and it's destined to be a classic.
Orange's ability to consistently switch narrators and continue to develop dynamic, unique characters is absolutely brilliant. It's a book I read two years ago and continue to think about. It's raw, candid, brilliant. -
Katie Novak
Explore books, book club guides, and resources on Universal Design for Learning. Learn More.