Simple Tools for Surviving Virtual Meetings
When the pandemic hit, like most of us who work in offices or classrooms, I grabbed the essential things I thought I would need in the case we wouldn't be back for weeks. My first priority was my coffee machine and my extra pods, I then packed some books (that I haven't had a chance to read), an extra device, my colorful felt tip pens, and the last bottle of hand sanitizer. On my way out the door I thought, what else do I need? I popped into our office's supply closet to give one last look and there they were – post-its. Being a digital learning director I don't carry notebooks or paper very often, but my desk is covered with fidget toys, legos, and post-its. I use them quite frequently when I'm on the phone or on a conference call. I doodle on the stickies, but I also use them for their intended purpose; to write reminders, calculations, and phone numbers. Some people make lists and like to see them crossed out, I like to make post-its and throw them away. I grabbed three stacks and went on my way.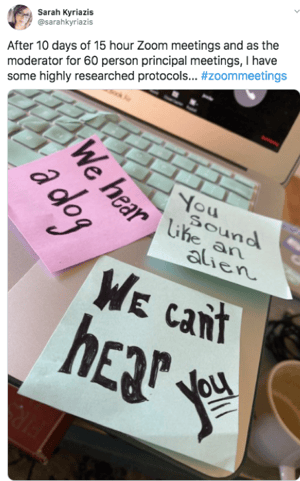 We were going on our third day and 30th hour of district admin Zoom meetings (collective sigh), a colleague's audio kept stopping, we could see her talking and talking, after the 10th time unmuting myself and yelling, "we can't hear you" and waving my arms like a flapping bird I looked around for anything to signal her. There they were, my stack of post-its. I grabbed one and I quickly scribbled "We can't hear you" and held it up to the camera. It was funny so everyone laughed, but then it became a part of our norms. Now, no more yelling, I just hold up the post-it.
We have been working from home for a month now and as the days progress, the list of post-its has grown. There is one for "you sound like an alien" which signals that your Wi-Fi is weak and that we can sort of hear you so maybe turn off your camera. "We hear a dog" came soon after and others have followed, but "We can't hear you" has gone through three iterations because it has been used so much.
The simple use of post-its for virtual meetings is not only funny but it truly is effective! It allows you to send a message to the group without being intrusive. As a facilitator of many large meetings, it gets tiring constantly having to tell people that they cannot be heard or that their TV is too loud. Most of us are working from home so we all know how it is to have a child interrupt (I have four!) or a dog that needs to go outside, so we are patient with each other. The stickys are a kinder way to tell our colleagues what we want to say.
I drew my post-its because honestly, I was too tired to walk to the basement to print them, but I have included some designs on a template from Tony Vincent here for you to print. I made them black and white so you can color them in. If you make a copy of this template, you can add your own designs.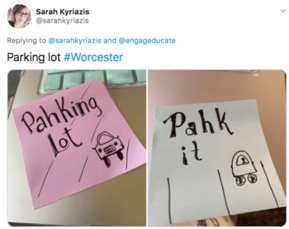 Everyone loves a good parking lot for topics that need to wait until next time, these are my "pahking lot" stickys – Massachusetts style!
I encourage you to try them out and develop your own post-its based on your group's needs. Everyone loves a good parking lot for topics that need to wait until next time, these are my "pahking lot" stickys – Massachusetts style!
I would love to see what you develop and how these evolve. I can imagine them being adapted for different types of meetings with colleagues and in virtual meetings with students.
Please share your stickys with us on Twitter and use the hashtags #postitprotocols #sayitwithasticky
Get started! Download and print our post-its here.
For more remote learning tips, check out our online courses including Online By Design and UDL for Remote Learning.