How to connect with families, build partnerships, and establish strong communications in your learning community.
During these difficult times and beyond, it is more important than ever to engage our families and our communities. To ensure that we connect with all families, we have to universally design our family and community engagement practices.
"Effective family engagement involves connecting with families, interacting with them as equal partners, and establishing strong two-way communications channels."
Universal Design for Learning (UDL) is a framework that recognizes that "one-size-fits-all" practices exclude some learners. The UDL Guidelines are a tool used in the implementation of UDL. These guidelines offer a set of concrete suggestions that can be applied to any discipline or domain to ensure that all learners can access and participate in meaningful, challenging learning opportunities. This idea also applies to families and the community. Since our goal is to teach all students and engage all families, we need to recognize barriers that may prevent meaningful involvement, and build partnerships, where parents help the school improve the education of their children.
To get started, we created a helpful resource "Universally Designed Family Engagement" to offer strategies, informed by the UDL Guidelines, to scale family and community engagement.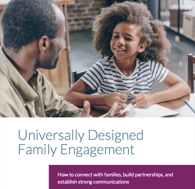 What's in this resource? Strategies for:
Providing options for recruiting interest

Optimizing relevance, value, and authenticity
Fostering Collaboration and Community
Supporting Planning and Strategy Development
Facilitating personal coping skills and strategies
Universal Design for Learning acknowledges that student learning is not a "one-size-fits-all" proposition. It also recognizes that learning does not happen in a vacuum. Learning is dependent upon engaging the whole child, who lives in a unique world surrounded by family and friends, as well as a community and culture that supports the child. As teachers, we need to tap into that world, build upon it, and energize the child to succeed.
Discover how you can further engage your students, their families, and your community. Explore our online courses.