A Guide to Planning a Constructive Talk with Your Child's Teacher.
It's time to make that call. Send that email. Make a connection. Emotions flare out of nowhere and spread like a wildfire, igniting tension in your home. Sadness. Anger outbursts. Shutdown. Frustration or tears (maybe both) over the littlest things. Your child vehemently, or apathetically refuses to do the work. Your child is just not the same. He or she is struggling. What used to be her or his favorite part of the day, has now become the worst. It's time to make that call. But, what do you say to your child's teacher? You may be frustrated, fearful, and at a loss for words. Where do you begin that much-needed conversation?
Many students of all ages are struggling now more than ever. We all know that COVID-19, that virus that we hoped would go away, hasn't, and has changed everything we used to know about how we do "school." Some students have fared well during this crisis. Others, not so much. If you are a caregiver whose child is in the latter category, we have some tips on how to forge a conversation with your child's teacher. Our tips align with a framework called Universal Design for Learning (UDL), which is a set of principles for proactively planning learning for success for all learners.
These principles can also support you, as a caretaker, to plan a conversation where you can build collaboration, offer mastery-oriented feedback and embrace the school-family partnerships, which are critical for success.
Firm Goals, Flexible Means.

First, you are your child's advocate. You have the right and the responsibility of contacting and working with your child's teacher. You are your child's first teacher and their biggest advocate. You are a part of the "team" and your participation is not only important, it is critical. One amazing strategy, before making the call, is to write down the goals you have for your child. UDL is all about "firm goals, flexible means," so take the time to think about the outcomes. For example, you may brainstorm something like the following, "It's so important to me that my child feels connected to the class and I want him/her to fall back in love with reading so I'd love to talk to you about how we can work together to reach those goals."

Foster Collaboration!

Your child is one of many in a classroom and the teacher is working with other children and other children's parents so you may have to give the teacher some time to get back to you or to make changes to any plans that you and the teacher create. The teacher not only wants but needs your help at home so set realistic expectations for the connection, and be sure to provide options and choices. Consider all the possible ways you could collaborate. Your note may say something like, "I'd love the opportunity to connect. Do you prefer email, phone, or Zoom for us to have a conversation? These are all the times I can make myself available…".

Recognize barriers.

School, district, state, and federal rules, standards and laws may create their own "firm goals, flexible means," that may create barriers for teachers, so it's important to practice empathy. Here are some sentence stems that may help to get to the bottom of when "flexible means" are possible.

I'd love to know more about what the remote learning requirements are before I ask more questions – as I am sure that some of these things are out of your hands.
If this isn't a decision you made, I completely understand but I'd love the opportunity to know more about the rationale behind the decision. Who would be a good person to follow-up with about this?

Offer options for reflection.

Teachers are working very hard to get to know your children, learn what they are good at and what they need help with, prepare lessons, deliver lessons, assess your child's progress, report grades, work with fellow teachers and administrators, and many other duties – like potentially supporting remote learning for their own kids. The teacher needs your patience and cooperation. Don't make the call "all business". Ask, "How are you holding up?" "How are you finding balance?" before sharing your concerns, your goals, and opportunities for continued connection.

Promote expectations and beliefs that optimize motivation.

Be Engaged in what is happening in the classroom in any way that you can! Tell the teacher how your child is acting, how motivated your child is to do their work, and how they like (or don't like) the class. If you have any evidence about your child's progress or lack thereof, share what you are noticing and ask, "Are you seeing the same thing or something different?"

Facilitate personal coping skills and strategies.

Tell the teacher how your child is coping with what is going on and how your child is self-assessing their progress. For example, "I think that my child gets overwhelmed by the pace of the Zoom meeting. I know he/she does much better when given time to think. It may be cool to set a timer for 1 minute after asking a question to give students the option to brainstorm, think or process (and then you can have a sip of water and take a breath!)
The best way to have a meaningful conversation with your child's teacher is to take the "team approach" where you are looking for a solution to your child's issue in the easiest and best way for everyone involved and that you are proactive and empathetic in your approach.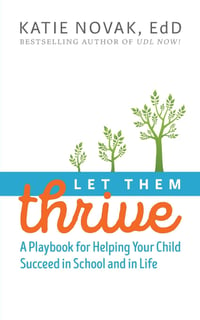 If you are interested in learning more about UDL and how to use UDL to understand what you child's teacher is doing in the classroom please check out Let Them Thrive: A Playbook for Helping Your Child Succeed in School and in Life that is available at Amazon, other bookstores or your local library.