I was recently at a bar (I know, shocking, right), and after bringing us our drinks, my wife heard our server venting in anger to her colleague; she was visibly upset. Clearly, we hadn't done anything to offend her, so my wife attempted to listen in only to learn that one of the server's other tables had literally walked out on a $75 tab -- like didn't make an effort to pay the bill at all. As she continued to vent, justifiably, it became clear that restaurant policy is such that the server herself was now on the hook for this tab (which, in and of itself, is a whole separate issue).
Now, I cannot say, with certainty, if this situation has or has not presented itself to me in the past; however, I can say that, even if it has, my reaction at THIS moment was vastly different. Why? Because COVID has made me kinder.
Many of you reading this might know me, some of you very well, and I hope it is fair to say that I was never an "unkind" person. I was raised well, believing in the power of "please and thank you", holding doors for others in public, saying "excuse me", and many of the other common courtesies that we might associate with being a "nice" or kind person, and yet, it was not until this moment at the bar that I really spent time, later that evening, reflecting on what kindness actually means to me, why it matters, and some of the ways I am a kinder person now, after the last year and a half, living with COVID around us (and still today).
Before I go any further though, it is important to note my intent with this blog. This isn't a "life is too short" sort of edict. It isn't a "how-to" tutorial. It is not even a "call to action" like much of my writing is. Instead, I write this piece as my own reflection; my own hope for improvement. And, if you will indulge me, I write this piece as an invitation — as a chance to reflect upon what kindness means to you, and if it seems appropriate, to marinate on how you might bring more kindness into your life both personally and professionally.
The post-bar reflection that evening wasn't my typical one -- there was no writer's notebook, no typing on the computer, no oboe concertos playing (one of my favorite reflection sounds). It was just me, a little Pinot Noir, and silence. And yet, this silence shed a starkly humbling, and if I am being truly honest, upsetting light on one of the most deeply entrenched linguistic parts of my life — just how frequently and carelessly I used the classic throw-away greeting, "how are you?" — and most times without really caring about the answer and sometimes not even pausing to listen to the answer. But contrasted with the last two months of school this year and how precious it was having staff and students actually back in person, I realized just how passionately I now cared about each and every response to this simple question, "how are you?" I listened with intent and purpose; I listened to hear and understand; and I listened because I realized this is the sort of kindness I needed and hoped, just perhaps, others needed, too. The fact is, this year we all experienced some kind of new trauma - for some, it was the loss of a loved one, and for others, it was a complete disruption of our very way of life. Hope for tomorrow was replaced by fear of today.
Take *Jenny as an example. Jenny isn't the "oh, now that I started to listen to how people were doing, I saved this student of the depths of despair" sort of story; in fact, it is rather simple, and that is what makes it so meaningful. Jenny was the sort of student who was always in class early -- you know the type, and in the past, I would have made half-engaged small talk with her, but the other half of me would have been focused on getting everything set for the day's activities. However, in the name of kindness and caring, I didn't care now if I had class ready to go "on time". What mattered is that I took the time to really listen to her response when I asked her, "how are you?" And some days, the conversation was brief with Jenny simply saying back, "I am okay" (which I will get to in a second), but other days, she shared more; we chatted more. Either way, she reminded me of the importance of kindness. Whatever she was going through - whether she wanted to share it with me or not - I wanted her to know there was someone there who cared and who would listen. That mattered; that's kindness.
But you see, this is the mysteriously wonderful part about this sort of honest self-reflection: once you dive in, you never know where you will land. And as this particular moment of reflective silence grew, so did the uncovering of other places where my kindness was lacking. Similar to the previously disinterested use of "how are you", I also uncovered that, even when I did care to actually listen to people's replies, I often brought my own bias to those replies in ways that were far from kind and were honestly deeply insensitive. The sharing of "I am okay" seemed to be a common reply, and, almost always, my reply back to that was, "oh…why only okay?", as if being "okay" is a bad thing. Hell, for all I know, being "okay" at that moment might have been a huge improvement and win for that individual on that given day and time, and yet, my follow-up almost always implied that "okay" was not good enough. It was insensitive, and, at its core, lacked the sort of kindness I would like to keep.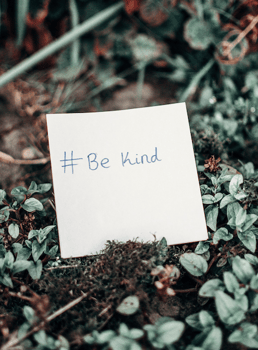 But my reflection wasn't just about these brief examples — as those were just two of many, it was about actually analyzing the sort of approach to life that empowers one to be fueled and fulfilled by kindness. It was about two very simple realizations. First, kindness really matters. This isn't revolutionary by any means, but it also never hurts repeating. Second, and perhaps the takeaway that really impacted me the most - kindness is only kind if it is authentic, and authentic kindness takes deliberate caring, honest listening, and time. These reflections have forced me, someone who is usually operating at 200 mph, to slow down, to truly engage with others in meaningful ways more consistently, and it is that intentionality that has made me a kinder person, at least I hope.
As for the waitress, I decided to cover the bill that had been walked out on. As an employee of an industry completely crushed by Covid, I thought it was the least I could do to brighten her world and fill her day with a little more kindness. That said, I will never actually know if paying that $75 tab made a difference in that server's life, and in fact, that doesn't even matter. But what I do know is that, had it not been for what COVID taught me about kindness, I almost certainly would never have considered such a gesture, and this reality is not okay. So, I will work to be better, to be kinder, and I invite you to reflect on the kindness in your life -- where you show kindness and perhaps if you are at all like me, where you might want to become kinder. Because as AESOP reminds us, "No act of kindness, no matter how small, is ever wasted." And in fact, when it is all said and done, it just might be the smallest acts of kindness, at just the right times, that make the biggest difference.
*Name has been changed for the purpose of this piece