Among the hustle and bustle of our work with students and team members, embracing the positivity of the Ted Lasso series has been a guiding light. Inspired by Ted Lasso's empathetic leadership, our Academic Advocates team in Orange County, California, recently had a collective moment of reflection while watching the "Believe" speech. The resonance of Ted Lasso's words sparked a profound exploration of our shared mission and the power of unity within our team.
Ted Lasso's approach, although fictional, resonates deeply with the principles of restorative practices. While our roles as educators extend beyond sports coaching, the emphasis on empathy, understanding, and personal development is equally applicable. Recognizing this, we've begun integrating elements of Ted Lasso's approach into our own strategies for nurturing team dynamics and fostering a supportive and inclusive work environment.
"I believe in hope. I believe in believe."
- Coach Ted Lasso
In the spirit of fostering a collaborative culture, we've initiated small yet impactful changes in our meetings and conferences, catering to the needs of our adult learners—our fellow staff members. A recent instance involved incorporating student-friendly strategies, such as providing fidget toys to maintain focus during sessions. This simple yet thoughtful gesture underscored the importance of creating a conducive environment that supports the well-being of our staff, paralleling the support we provide for our students.
However, as educators, we often find ourselves immersed in the demanding responsibilities of our roles, attending to the needs and growth of our students while neglecting our own well-being. Juggling multiple tasks, managing classrooms, and ensuring student engagement while preserving our own composure is no easy feat. The emotional weight we carry, coupled with the pressures of managing large groups of students, necessitates a deliberate focus on our own mental and emotional wellness. To effectively support our students, we must first ensure that we are well-supported ourselves. This starts with supporting each other!
Incorporating restorative practices and wellness strategies into our daily routines is not just a suggestion; it's a necessary step toward achieving a healthier work-life balance. By implementing mindfulness exercises, establishing designated wellness rooms, or integrating regular check-ins during staff meetings, we create an environment that nurtures our growth and fulfillment. This approach not only enhances our well-being but also demonstrates to our students the importance of practicing self-care and prioritizing mental health. Afterall, we know that they are always watching us!
As we strive to create an inclusive environment for our team, it is imperative that we provide a space for every voice to be heard. Implementing student-tested strategies for staff well-being and success not only fosters a culture of empathy but also serves as a powerful example for our students. It highlights the importance of inclusivity and the value of each team member's unique perspective and contribution.
If these strategies (shared in Universal Design for Learning in English Language Arts) can have such profound effects on our students, they can undoubtedly work wonders for our team's well-being as well.
Our book, Universal Design for Learning in English Language Arts, emphasizes the transformative impact of empowering students to discover their voices, explore their identities, and make sense of the world around them. I would argue that if these strategies can have such profound effects on our students, they can undoubtedly work wonders for our team's well-being as well.
We can all agree that the research findings in the field of education support the benefits of self-care and mindfulness techniques for educators. This is not groundbreaking; rather, it's a gentle reminder from one educator to another. Engaging in these practices has been shown to reduce stress levels, increase job satisfaction, and improve overall effectiveness in the classroom. By integrating these findings into our daily routines, we contribute to the development of a more supportive and nurturing educational environment, benefiting both educators and students alike.
In essence, by prioritizing our well-being and implementing student-tested strategies, we pave the way for a more compassionate and supportive educational community. Let's continue to lead by example, demonstrating that the principles we impart to our students are not just theoretical but practical tools for navigating life's challenges and fostering personal growth.
Together, let's foster an environment that values both the well-being of our students and the well-being of our educators, creating a holistic and nurturing space for growth, resilience, and empathy. Wrapping up my reflections with some uplifting Ted Lasso energy, here's a final quote: "Congratulations - you both just met a really cool person". Or at the very least, we connected through this blog post!
Get started! Download this infographic (pdf) which features 5 simple restorative strategies that can be integrated to nurture team bonds and well-being.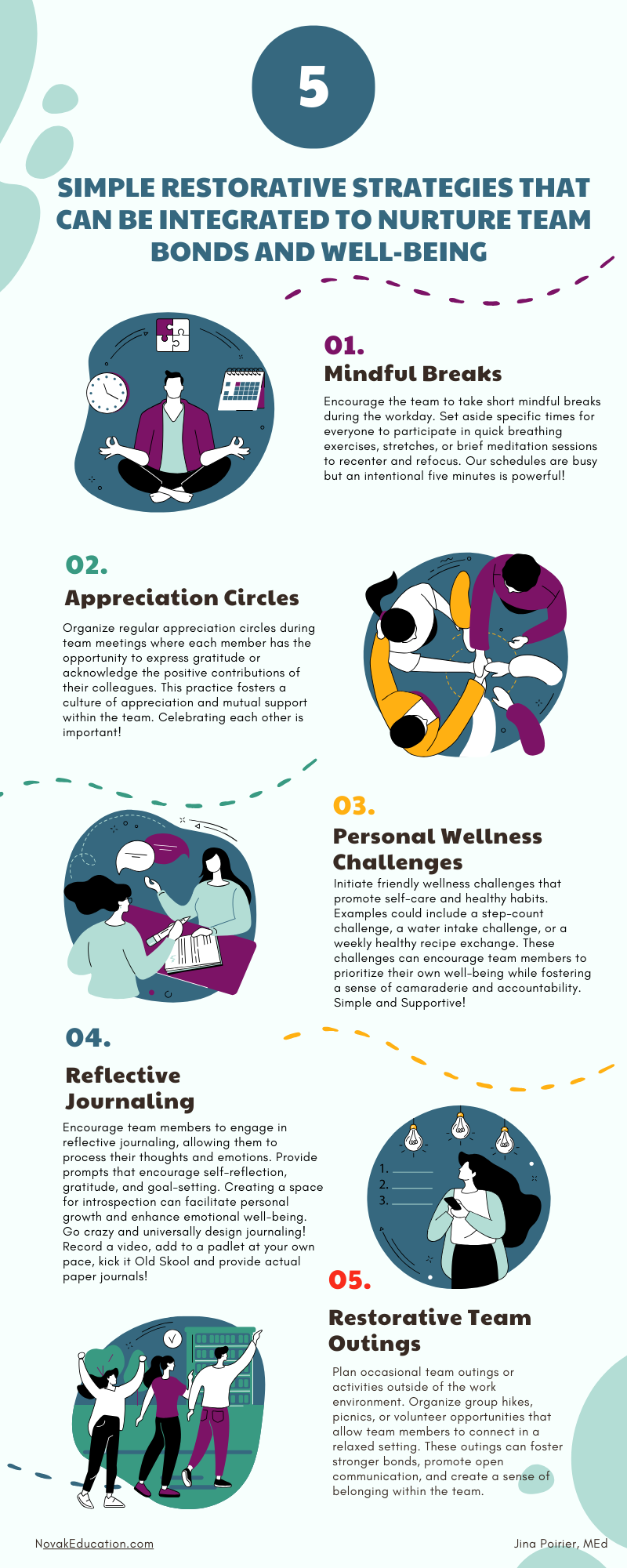 Sources:
Stress Management and Resiliency Training for Public School Teachers and Staff: A Novel Intervention to Enhance Resilience and Positively Impact Student Interactions
Sherry S. Chesak, PhD, RN, Tejinder K. Khalsa, MD, Anjali Bhagra, MD, Sarah M. Jenkins, MS, Brent A. Bauer, MD, and Amit Sood, MD