A Guide To Better Meetings
This wasn't the first nor the last. In fact, it is probably more the norm than the outlier, and sadly, we can virtually promise you that you have been there, too. Clarity was lacking, so confusion is growing. Purpose was unclear, so patience is waning. And now, anger is building, and before you know it, conditions are such that there is zero chance for productivity nor civility, progress nor caring.
Stop for a second, now, and think about a meeting you have been in that fits this description. It could be one you led (and it is okay to reflect upon and admit that) or one you attended, but the reality is, if you have worked in education long enough (or probably any professional setting), you indeed have experienced this situation.
We know that the two of us sure have, and at times, even the same meeting together. After a particularly frustrating one recently, we set out to uncover what went wrong and how potentially damning meetings like this could be avoided. But we quickly realized that this was a LOT to unpack and think through - trying to categorize why we meet and how to best design those meetings so that the purpose is clear and that pathways exist for success. At the end of the day, we have spent six-plus months reflecting on the meetings we attend and those we lead in an effort to create a solution in the form of a Meeting Better Guide to help us all host and experience better meetings. To get started, we outlined the six types of meetings.
Types of Meetings
Information Sharing

New Information
Updates on Previous Information

Idea Generation

Individual Consideration
Facilitator Consideration

Decision Making




Collective
Collective-to-One
Once the types of meetings were established, we set out to create corresponding protocols that will not only allow leaders to facilitate meetings that have a clear purpose to engagement but also support the fight against burnout by utilizing structures that support adult social and emotional learning. This begins with planning and articulating a clear purpose for precious time spent gathering together.
"Support the fight against burnout by utilizing structures that support adult social and emotional learning"
At its core, this piece, we hope, is a playbook for meeting design and planning, breaking down why we meet into three categories each with two subcategories, and then a protocol you can use for each of the six specific meeting types.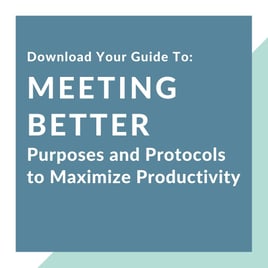 To help make these types and protocols tangible, each of us will walk you through an example, from start to finish, of a major change in education and the ways in which setting meetings with intention and using deliberate protocols can help you take an idea of initiative from seed to flower.
The most important takeaway should be that without a clearly defined purpose and a protocol to ensure said purpose, meetings can and will go awry. When the topics and problem-solving tasks facing educators are vast and ever-changing, we hope that providing protocol templates as well as examples of application will help school leaders who are looking to cultivate more predictive and collaborative meetings spaces.