Let's imagine that you have an upcoming assignment where you give students an assignment to define important vocabulary terms. You have decided to provide students with several options, which include creating a drawing, developing a song, or taking a multiple-choice quiz. How can you combine the power of choice and Artificial Intelligence with Universal Design for Learning to create three different assessment choices for students?
Idea # 1: Unleash Creativity
Although many students may have natural artistic ability or choose to draw their ideas on paper, some students may feel self-conscious or struggle to creatively present their ideas. A tool like Google's Autodraw can help support students by providing them with options for unleashing their creativity.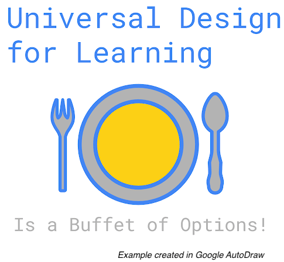 For instance, students can use the Autodraw tool to draw an image on their screen, which Google uses artificial intelligence to predict and convert the image into a more professional-looking image. In addition, students can customize the image by adding their own drawings, text, shapes, and fill.
Bonus Idea! Want to add a collaborative piece? Why not combine Google AutoDraw with Google Slides to create a quick jigsaw activity? Simply create a Google Slideshow presentation and assign a slide to each student during the last five minutes of class. Have students create their drawings in Google AutoDraw, download the image, and add it to their assigned slide. Begin class the next school day by having your students briefly present their assigned slide to the class.
Idea # 2: Develop a Song
Although I love music, I did not acquire my late father's musical talent, which prevented me from trying out tasks such as writing a song to demonstrate my understanding of a particular topic. Many of our students feel the same way. They may have a passion for music but lack the confidence or the ability to showcase that talent through singing.
Voice Mod is a free website that uses artificial intelligence to turn written text into a song. Students can write their lyrics, select a song and musical artist, and generate a musical masterpiece in minutes! The best part is that the song can be downloaded or shared via a hyperlink. (Check out the example at right summarizing this article).
Bonus Idea! Have your students put together their own song lyrics in Voice Mod and download into a program like Garageband to create a mash up version!
Idea # 3: Take an Accessible Multiple-Choice Quiz
Suppose you wish to create a multiple-choice quiz option for students. ChatGPT simplifies the process of generating such quizzes by allowing you to copy and paste text, like an article, and generate multiple-choice questions. However, one drawback of this approach is the lack of certain supports and scaffolds that some students may require, such as text-to-speech tools, audio recordings, images, and hyperlinks.
What if you were to take the quiz generated by ChatGPT and import it into a platform like Classkick? Classkick is a free tool that students can utilize to complete assessments. You can effortlessly transfer the quiz text from ChatGPT into Classkick. This integration enables you to enhance the quiz by incorporating valuable features, including audio recordings of yourself reading the questions and the option to include helpful graphics.
Furthermore, Classkick offers an automatic grading feature, providing students with immediate feedback on their performance. This approach can address the limitations of the initial quiz generation while providing a more comprehensive and accessible assessment experience for all students.
The power of choice combined with the capabilities of Artificial Intelligence and the principles of Universal Design for Learning can be a transformative approach to creating diverse assessment options for students. By offering a range of choices, such as using Google AutoDraw to visually express creativity, utilizing Voice Mod to turn text into songs, and enhancing multiple-choice quizzes generated by ChatGPT with Classkick's features, educators can cater to individual learning preferences and accessibility needs. This approach not only empowers students to demonstrate their understanding in ways that truly resonate with them but also ensures that every learner has the opportunity to succeed and excel.