Zach Smith is a passionate advocate for the power of inclusion to revolutionize the way teachers teach and being paramount for closing achievement gaps. Growing up with siblings with disabilities, he saw first hand the impact of exclusionary instructional practices. After graduating from Fresno State, he started his career as a special education teacher, which he worked as for 8 years. Over the past 3 years, he has co-led the implementation of UDL for all teachers in his district.
Zach has extensive knowledge in UDL; presenting, coaching, planning, and building organizational capacity around this initiative. He received his M.A. and B.A. from Fresno State University and is a Doctoral Student at HGSE Ed.L.D Program.
Zach, lives with his wife and best friend Dorothy, as well as their four daughters.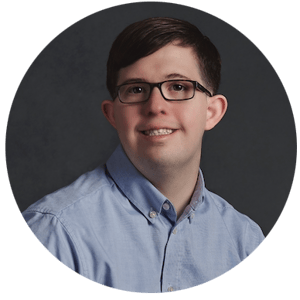 Hello…My name is EJ Smith and I went to high school at Bullard High School. It is good place to be because I remember how I started and also graduated. I was in leadership class for two years.
Break the Barriers is a great place to be and they have gymnastics, dance, Taekwondo, music, sign language for all abilities. I am on the performing travel team and have visited 7 countries to demonstrate abilities and inclusion. My first trip was to China with my brother. I have been to Dominican Republic, India, Peru, Australia, and The Philippines. We are going to Canada in October this year.
I was a volunteer at the VA hospital for 7 years. And it was good for me and I was working in the laundry to fold patient's gowns, sorting clothes, folding towels and washcloths, and shaking pillowcases. That's what I liked at the VA hospital.
Now, I am in Project SEARCH at Community Regional Medical Center. They are great workers, always helping me to learn new skills for working. I try to help them and I live with my parents. And I take care of the pets every night and I let dogs in the house and I fold all the laundry every day. I don't like anyone else to help me do any jobs for me. I want to work at some place like the hospital when I am finished with Project SEARCH.